Pepper Harvest Trip • Day 3 • Mumbai India
Posted on February 04, 2017 by Scott Eirinberg
Day 3, Saturday in Bombay
With over 21 million people, Bombay is the sixth most populated city in the world. And I'm pretty sure we saw about 20 million of them on Saturday.
We spent most of the day walking up and down the streets near Crawford Market. Or I should say, trying to walk up and down the streets. It's not easy and you better watch your step and look both ways. And then do it again.
Cars, trucks, auto-rickshaws, ox-drawn carts, street food salesmen, religious people, motor bikes, workers and pedestrians stream through the streets, ignoring traffic lights and personal space.
About 30% of those that we saw were hauling stuff on their heads or pulling long carts of boxes through the streets, clucking at people to move out of their way.
Perhaps one of the more amazing things is how dressed up everyone looked. Most of the women were wearing bright colored saris. The men mostly wore colorful button down shirts or polos.
Seems like someone sent out an email telling them that every day in India has been declared business casual.
All photos taken by my traveling buddy and pro photographer Alan Shortall.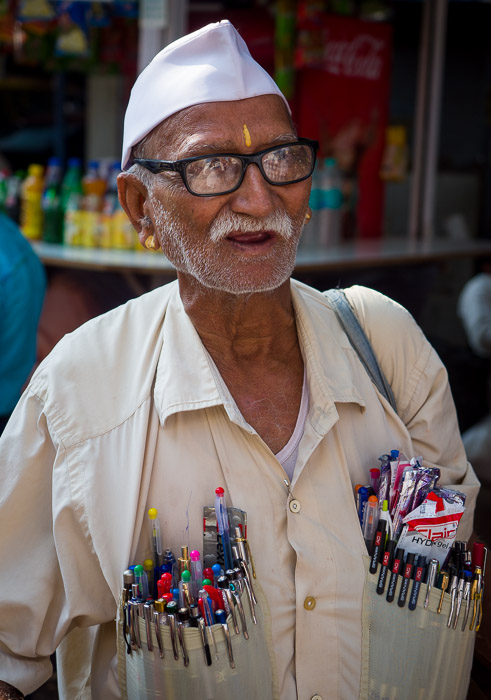 Posts in the Pepper Harvest Trip Series:
The Pepper Harvest Trip Itinerary
Day 1 • Mumbai India • Arrival
Day 1 • Mumbai India
Day 2 • Mumbai India • Morning
Day 2 • Mumbai India • Afternoon
Day 3 • Mumbai India
Day 4, 5 • Visit Divakar • Kannur India
Day 5, 6 • The Pepper Harvest • Wayanad India
Day 7 • The Pepper Harvest • Wayanad India
Day 9 - 12 • Street Photography • Rajasthan India
Day 10 • Rajasthan India • Monkey Mayhem
India Wrap • Some Photos of My Own